Sea Acres Rainforest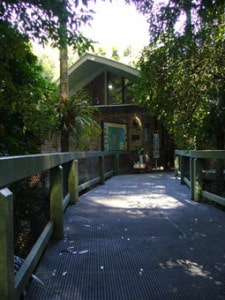 The Sea Acres Rainforest Centre is a NSW Tourism Award Winner. The National Parks and Wildlife Service venture preserves 72 hectares of rare coastal lowland rainforest adjacent to Shelly Beach and Miners Beach in Port Macquarie.
Many people say it is an inspiring experience as they wander through the sanctuary on the 1.3 kilometre elevated boardwalk. This was one activity we had planned to do, thinking entry was free. Like most of our national Park there was an entry fee ($8.00) which included a guided tour with a volunteer Rainforest Guide. If you would like a guided tour, it would pay to telephone and find when the guided tour runs.
There is a TV monitor with short documentary on the Park which explains the basics of how a rainforest works. Attached to the Centre is a gift shop selling environmentally friendly products, gifts and souvenirs, crafts, educational books, toys, games and gourmet items. The Sea Acres Rainforest Café wasn't open the day we visited, but usually serves lunches, morning and afternoon teas from 9am to 4 pm. Ph: (02) 6582 3355.