Koala Hospital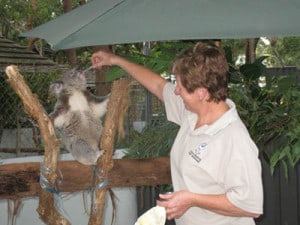 The Koala Hospital in Port Macquarie is said to be the world's first hospital dedicated to the care and preservation of koalas. The facility has a treatment room, plus eight Intensive Care Units, a 24 Hour Rescue and Treatment operation and multiple recovery yards. The Hospital also has a research affiliation with the University of Sydney, as not enough is known about koalas. The Koala hospital has between 200-300 admissions per year and a significant number of these injuries come from dogs and motor vehicles.
Roto House, an example of a 19th Century building and shares the Port Macquarie Nature Reserve with the Koala facility. The 12 hectares is comprised of wet sclerophyll forest which is essentially a treatment and relocation centre for koalas displaced by urban expansion.
Koalas are found in Queensland, New South Wales, Victoria and South Australia and are not considered endangered, although they are listed as a vulnerable species. Some local isolated populations of koala in the four states could be considered endangered due to habitat loss through housing development. Their food trees are threatened and therefore they could face local extinction.
The public are not allowed into the hospital itself but when the animals have been treated they are initially placed in the yard where there are two permanent marsupial residents along with other sundry visitors. To ensure the koalas receive a varied diet, additional fresh leaves of four different Eucalypt are supplied each day. A good time to visit is during feeding which takes place publicly from 8.00 a.m. to 8.30 a.m. and from 3.00 p.m. to 3.3.0 p.m. daily. There is also an associated shop, telephone: (02) 6584 1522.