[rev_slider Central]Great Central Road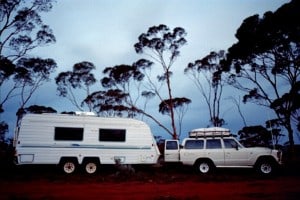 In 2001 we embarked on a caravan trip leaving Armidale, NSW travelling West to pick up the Plenty Highway, then down through Alice Springs to Uluru. We had planned to continue West along the Great Central Road but torrential rain closed the road. After waiting for a week at Uluru the road looked like it would be closed for another few weeks so dropped south and crossed westwards via the Nullarbor Plain to Perth. We headed back East from Perth stopping at Leonora to visit friends then headed 1,541km eastwards on the Great Central Road to Alice Springs.
The Great Central road is also known as the Great Central Highway which in concept connects Laverton in Western Australia with Winton in Queensland, a total distance of 2,720 kilometres.
The Laverton to Uluru section of 1,098km is the most isolated section. There is fuel available at the Tjukayirla Roadhouse (303km East of Laverton), Warburton Roadhouse, 548km (East of Laverton) and the Warakurna Roadhouse (773km East of Laverton) but limited facility for mechanical repairs. This is not a road you should take an old 'clunker'. Summer of course is an extremely hot time of the year to be on Outback roads. If you are traveling at this time ensure you budget and carrying enough water to cater for emergencies. Keep an eye on the weather which can be done through the BoM website.
The road from Laverton to Kata Tjuta (Eastern perimeter of Uluru Kata Tjuta National Park) is unsealed road and I have split it into two sections:
Laverton to the WA Border has some sections which well formed, graded, and relatively smooth surfaces. However some sections are deeply corrugated, sandy and rutted with occasional bulldust holes. There is minimal road signage and limited forewarning of sites, features, bends or crests. Make sure you have good maps!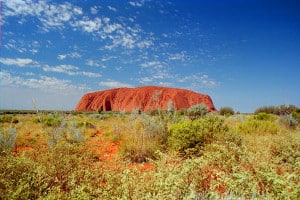 WA Border to Kata Tjuta section has rock-sand limestone or red desert sand with some rough corrugations, ruts and soft, boggy sections on dune rises. Some of the creek-river crossings have dry, soft surfaces that are susceptible to seasonal flooding January-March. This section of road is often the most vulnerable to damage, as a result of the sandy (desert) substrate, and can sometimes be badly corrugated. The 230kms from Kaltukatjara (Docker River) to Kata Tjuta can often be badly corrugated and maybe a test of your vehicle's mettle.