Cairns Estuary Fishing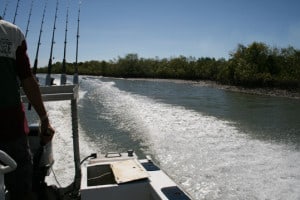 The first thing that should be said about taking a Cairns estuary fishing tour is don't do it! The estuary is fished out and despite thecolourful brochures showing all those large fish, these days they catch very little.
The fishing trip was for half a day and priced at $85.00 per head. Although bottled water was available from the icebox, we would have taken a bottle of wine or a couple of beers had we known the fishing was so poor!
The tour left from one of the finger piers along the Cairns wharf and headed out to one of the many mangrove channels in search of bait. It was fascinating to watch the young skipper skilfully manoeuvre the boat around the mangroves and at the same time throw a casting net to catch our baitfish.
After half a hour we had enough prawns and small fish (which we later fed to resident seabirds) to bait up for the rest of the day. All the rods and reels are included in the deal, and with only four passengers we had at least one rod each. I'm not much of a fisherman at the best of times but Ceri loves it and was pretty excited as we headed around the estuary to catch dinner.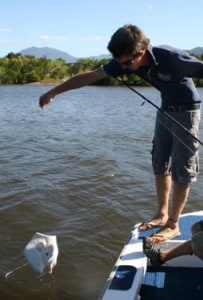 After several hours without so much as a bite one of the other guests caught a small stingray about the size of a dinner plate… but no fish for dinner.
We moved the boat again to no avail and passed the time talking about Steve Irwin's unfortunate death by stingray, his amazing energy and contribution to the conservation movement. But still no fish!
Apparently the 90 kilometres of mangrove lined estuary are home to a large range of fish including the famous Barramundi, Mangrove jack and Trevally, Salmon, Grunter, Flathead, Fingermark and Gold Spot Cod. Some claim that over 40 species of fish can be regularly caught in the Cairns Waterway. If you don't believe me, type Cairns estuary fishing into Google and you'll see amazing pictures of all these huge fish… but you shouldn't expect to catch any.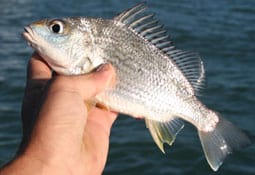 Alright, so we did end up catching a fish. Here it is, a baby Grunter pictured on the right. Of course we threw it back so you too can experience the thrill.
Nevertheless, we had a lovley afternoon out on the waterways and enjoyed the marine surrounds. Watching the sea birds eat our bait fish was great fun!
Cairns fishing GrunterI think the operators could include a bottle of bubbly for the girls and a few beers for the boys and forget the spin about catching fish! We didn't go out onto the Great Barrier Reef but apparently peopledo better out there.
We certainly enjoyed Cairns and there are some great places to stay. If I've been a bit harsh and you have a better story to tell about Cairns Estuary Fishing then let me know.