Dunsborough
Dunsborough is a wonderful little coastal town 254 kilometres south of Perth in Western Australia, and nestles on the shores of Geographe Bay. It is a popular tourist destination for many Western Australians and over the last 10 years or so the town has grown quickly and become quite wealthy.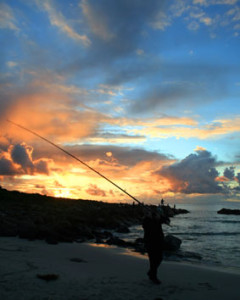 Lately I have been feeling a bit trapped in the city so I called Kevin a good mate, and my son Jesse and a decision was quickly made to do flying fishing trip to Dunsborough. We packed our gear and chatted incessantly about the big Salmon we'd catch as we drove south on the three hour trip. In Bunbury we spotted a 15 foot Shimano surf rods on sale at an unbeatable price so two rods and reels was added to our kit.
We arrived at 4pm and checked in to our digs at the Wyndham Resort a few kilometers north of Dunsborough. We wanted to get set up before dark so without wasting too much time we made our way into the Leeuwin-Naturaliste National Park.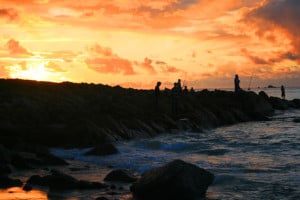 After looking at a few locations and with light fading we eventually settled on Smiths Beach as the place to catch our monster salmon. It was an easy walk from the 4WD to the beach and we were set up and baited within 15 minutes.
The new 15 foot rods made casting off the beach a breeze and on the first throw I pulled in a nice sized Herring. As time wore on we caught a few more Herring and had a few good bites from 'something' bigger.
After a thousand casts… well mabye not that many and waiting for the tide to turn, a small salmon was the only other fish caught by 9.30pm. It was getting pretty chilly on the beach by this stage so it was back to our accomodation for a hot shower and some kip.
We hadn't given up fishing and next morning we were up at 6am… starving as we'd only snacked the evening before so it was into town for a hearty breakfast and back to Smiths Beach by 7:30am.
The morning air was very cool and a light sea fog hung as the sun made its entry. Nothing was caught off the beach but we did land a few Wrasse off the rocks, enough for a feed at at least.
With little happening, the fishing day for us closed at 9:30am knowing we faced a 3 hour journey back to Perth. We all agreed it was a great trip albiet too quick and only a handful of fish. I think we'll be back, so look out Salmon!