Walking Boots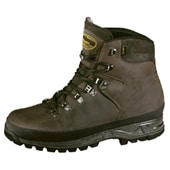 Walking boots are the foundation of comfortable and safe walking. Make a poor selection in this basic kit and it could leave you with blisters, hobbling in pain and turn your trip into utter misery. Generally a single pair of walking boots has to be sufficient for walking, climbing, travelling over creeks, plodding through mud, negotiating slippery logs, blundering through brush and perhaps even step-kicking in snow. A good boot is therefore a happy compromise amongst all these conflicting requirements.
Walking boots should be tough enough to withstand scraping of rocks, stiff and solid enough to step kick snow, and high enough to protect and support your ankles in rough walking conditions. If you are planning on doing a lot of winter walking you might want consider a double skinned boot with insulation between the sole and insole. Remember the sole should also provide traction on slippery surfaces or smooth rock.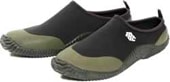 You might also want a pair of light weight 'bivvy boots' to wear around the camp when not walking. You can purchase ones like those pictured on the right, but light tennis or runners are fine for summer trips. Having light weight boots to slip into after a long day is a wonderful sensation, and it gives your walking boots time to dry and air. If you are in winter conditions and in snow, you might like to have a pair of down filled booties instead. Australian Geographic Outdoor has a few useful tips on purchasing walking boots.
Fitting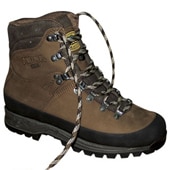 It is important to remember that you must have room in your walking boots to wriggle your toes, but the fit should not be so loose that your foot can slip around, which will cause blisters and your foothold will not be as secure. When trying on boots for size, make sure you do so with the number and type of socks you will wear when walking. Boots that are too tight may constrict your blood circulation, causing your feet to be cold, and if in winter conditions susceptible to frostbite. If you have time, try the boots on and if they fit well in the shop, come back another day and try them on again. Don't begin your trip with brand new boots, as this is certain to create problems. Wear the boots around your home, go for a walks and wear the boots in.
Price
There are dozens of walking boots in every imaginable style, and you will need to decide what the majority of your walking will be. Is it the odd short trip or two? Or are you planning on doing extended trips of many days. Price is usually a fair indicator of leather quality, and inexpensive walking boots sometimes fall apart after a season or two. A good pair of boots will last many years if you look after them. Keep them clean, dry and look after them by using waterproofing compounds or leather conditioner. If they get wet (which they will) don't roast them on a fire to dry!
Socks
Socks provide; cushioning, insulation, absorption of sweat and reduce friction between the foot and boot. Wool is a good material for socks, and a light smoothly woven pair is often worn next to the skin and heavier woven wool over the top. The toes must always be free to wriggle! Three tightly packed pairs of socks crammed into your walking boots will provide less protection from the cold than two looser layers. There are also some good synthetic socks that have deep loft/pile and are very comfortable. However my favourite socks are made from bamboo and are just so darn comfortable. the only down side is that they take quite some time to dry.
Mountaineering Boots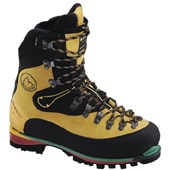 The Nepal Extreme mountaineering boot is an example of a boot ideal for technical use on high elevation terrain and ice. The insulating Gore-Tex®/Duratherm® lining makes it completely waterproof and breathable. The upper features a "3D Flex system" hinge, which is an innovative system of multidirectional ankle hinge, combined with an elastic anatomical snow protection in the back, with a small integrated elastic gaiter. The insulating Ibi-Thermo footbed gives the boot exceptional insulation from the cold. This features a tapered HP3 midsole and shock absorbing PU which inserts in the area under the heel and the ball of the foot.
It also has a new exclusive sole with the innovative Impact Brake System technology, developed in collaboration with Vibram®, and designed to soften impact on hard ground. The removable tongue with incorporated ventilation system, gives the option of adjusting the fit, personalizing it for any foot. The EZ OUT pull loop facilitates the unlocking of the lace lock. Other features include:
• Upper: 3+ mm water-repellent idro-perw roughout leather • Insole: insulating Ibi-Thermo 9 mm • Midsole: Mountain Evo Suspension • Sole: Vibram® IBS, easy to resole • Sizes: 37 – 48 • Weight: gr. 2.080 per pair • Lining: Gore-Tex®/Duratherm®