Tommys By The Beach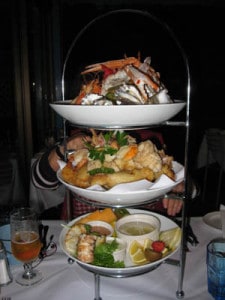 Tommys By The Beach is the multi award winning dining experience at fabulous Flynns Beach specialising in Seafood and Steak. The ever changing menu is based on the freshest ingredients from the Hastings River – oysters, prawns, fish and mouth-watering steaks.
On Sunday night we noticed that Tommy's was crowded and thought it was a sure sign that the food was good. The following evening was much quieter, and after talking to the Chef we ordered the Hot and Cold Seafood Platter for Two.
Wow! what a meal. The Chef's sumptuous banquet included ½ a Natural Lobster, Fresh Oysters, Fresh Prawns, Blue Swimmer Crab Sauteed Bug Tails, Soft Shell Crab, Salt & Pepper Calamari, Battered Fish, Breaded Prawn Cutlets, Prawn & Scallop Skewers, Fries, Salad, Fruit and dipping Sauces.
The amount of food overwhelmed us and we asked for a doggy bag which kept us in nibbles for the next day. If you are looking for an excellent restaurant in Port Macquarie, you should not go past Tommys By The Beach.
Below is a little video clip of our scrumptious meal!