Scenic Eco Cruise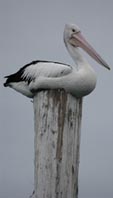 The Scenic Eco Cruise departs twice daily from the Macquarie wharf and takes about two and half hours to do the trip, including a 1/2 hour stop-over for a cuppa at one of the oyster leases.
This Scenic Eco Cruise is a very laid back cruise and although interesting in a general sense it is nothing much to write home about. After leaving the ticket office the boat heads over to Pelican Island, in the mouth of the Hastings River. We were told that the Island is expanding at about the rate of one metre per year, and there is Indigenous memory when it didn't exist at all.
The Hastings River has around 30 commercial oyster farmers, and the water quality of the River is up there with the best. The town water supply is pumped from the Hastings River at Koree Island and is stored in the Port Macquarie and Cowarra Off-Creek Storage Dams. Water samples from seven creeks that flow into the Hastings River are tested regularly. The Hastings River water is constantly monitored at Koree Island's fully automated Aqualab.
Fishing
Fishing is popular particularly from October through to June each year with peaks during Christmas and Easter. Water and air temperatures are generally mild during winter and very pleasant during summer.

The river has a wide range of fishing opportunities from freshwater bass and catfish in the upper reaches to estuarine species such as bream, flathead and luderick near the entrance.
Within the Hastings River, recreational fishers can target bream, luderick or flathead from the popular Port Macquarie break walls. Keen anglers can try Hastings River recreational fishing guidefor the highly sought after mulloway off the south or north break walls after dark.
Limeburners Creek is a popular spot for small water craft, with schools of bream and luderick hiding amongst the oyster leases. Remember: please do not tie up or interfere with oyster cultivation leases.
Below is a little video we made while taking the Scenic Eco Cruise.