Rivermark Cafe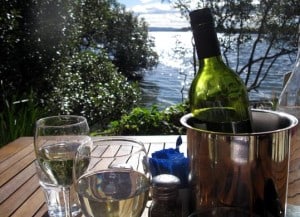 Rivermark cafe is the only cafe on the river, with uninterrupted views of the Hastings River.
We were famished when we arrived back from our whale watching excursion and someone suggested we should try the Rivermark Cafe. What a great choice! We took along a bottle of Cassegrain's Semillon Chardonnay and ordered our meal straight off the Specials board.
Ceri had Peppered softshell crabs and with prawns and avocado and mango salad, and chilli lime mayo.
My order consisted of: Tiger prawns and chorizo spaghetti, with tomato chilli parmesan and toasted ciabatta
The staff were wonderful, we didn't have to wait very long, the food was delicious and beautifully prepared. The meals were not big, but absolutely spot-on for a lunch in the sun, overlooking the river and mangroves.
The cafe is open for breakfast and lunch seven days a week and you can sit outside in the covered al fresco dining area. The main menu has scrumptious seafood, salad, gourmet burgers and daily specials like we had. They have coffee and cake galore which only added to our girth, but we couldn't resist.
This place is popular with the locals and tourists alike so bookings are recommended particularly on weekends. It is BYO so don't forget to bring a bottle of wine if you want to settle in for the afternoon.