NAVMAN MY55T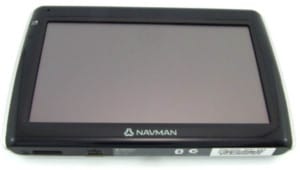 My Navman MY55T did not last that long (18 months) and died in 2012 and I have not purchased another unit since. I tend to use my mobile phone these days and below is of 'historical' value.
4.7" LCD Touchscreen – Do you prefer to tap and scroll or would you rather a smooth slide screen? Set your Navman to the way that you want, making it easier for you to use and faster for you to find what you want.
Smart Find™ Keyword Searches – It's quick and easy to find your destination with a Navman MY-Series GPS. Navman's Smart Find™ technology allows you to type in the address you're looking for in any order you want (numbers, street name, suburb, venue name) – whatever suits you. The Navman MY55T will narrow down your search as you type, meaning less taps of the screen to get you where you're going. Once you've found your destination, select it and you'll instantly be shown the best route to get there.
Live Traffic Updates – Access Live Traffic Updates before you head off or during your journey to stay informed of traffi c jams, accidents, or hold-ups along your planned route. If there is a delay, your Navman will also give you an estimated delay time or time of arrival so you can choose whether you want to keep going or take a different route.
FM Transmitter – Play Navman's voice guidance and Bluetooth™ connected phone calls through your car speakers for even clearer instructions.
Premium Safety Alerts – Stay safe with speed and red light camera alerts, as well as blackspot warnings (accident prone areas) on dangerous roads and railway crossings.School Zone Warnings – Be warned by Navman MY55T when you are approaching a school zone where speed limits are reduced and children may be crossing streets, keeping both them and you safe and sound.
Speed Sign & Limit Alerts – Missed a speed sign or unsure what the limit is in a specific area? Your Navman can tell you thanks to built-in speed sign information based on actual road signs in the area. Avoid fines and travel with confidence. Metropolitan areas only.
3D Junction Views – In addition to detailed guidance, when approaching some major intersections a 3D image of the complicated area will appear on screen, with arrows to guide you, making it crystal clear which way you need to go.3D Landmarks – 3D Landmarks are well-known buildings that make finding your way around town even easier. Highly detailed images help orientate you on the map and keep you moving in the right direction.
Advanced Lane Guidance – Roads can get busy and often confusing, but Navman's Advanced Lane Guidance will never steer you wrong. Enjoy onscreen arrows, advice on the best lane to be in when approaching a turn on or off a motorway, and clearly spoken directions to take you to your destination.
Location And Trip Capture – Found a place you want to remember? With a simple press of a button (and a voice tag on some models) the Navman MY55T will store it and guide you back there whenever you choose so you don't have to rely on memory alone.
Spoken Street Names – Never miss a turn thanks to easy to understand, detailed voice directions and spoken street names in a clear Australian voice. You'll also enjoy greater detail for better guidance. For example, instead of just saying 'Turn right in 200 metres', your Navman MY55T will say 'In 200 metres at the traffic lights turn right into Smith Street'.
Bluetooth – Navman's built-in Bluetooth™ connectivity turns your MY-Series into a hands-free car kit, so you can safely make calls via a compatible Bluetooth™ phone without interrupting navigation.
Navman Connect – Live Local Search – Connect to over one million business listings by connecting a compatible Bluetooth™ mobile phone to your unit. Using simple keyword searches on TrueLocal and Google you can find anything you need when you're on the go or in an unknown area. Whatever you're searching for, it's always just a few taps of the screen away. Live Weather Updates provide handy information about the weather on your planned journey or at your destination so you'll never be caught unprepared.
A Digital Logbook – Record your trip details and output mileage reports, including distance, start and end locations, time of travel and fuel consumed to ensure doing your expenses and taxes are quick and easy.
Latest Map Guarantee – If an updated version of your preloaded map becomes available, you can download it free of charge within 30 days of first using your qualifying device. Simply install the PC software inluded with your device, and attach your device to your PC. When you go online, your Navman MY55T will detect whether an updated map is available for you to download. The 30 day Latest Map Guarantee is available on the 2009 MY-Series range. Navman reserves the right to refuse a free of charge update where the preloaded map is over 12 months old.