Kuranda Village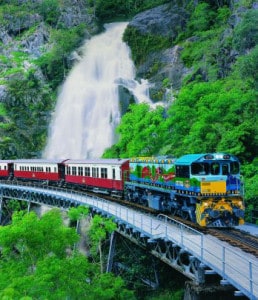 Everyone we met suggested we must see the picturesque mountain retreat of Kuranda Village which is only 25km northwest of Cairns in Northern Queensland. The town is pretty much completely surrounded by World Heritage Rainforest and so we thought we'd give it a shot.
We caught the Historic Scenic Railway up to Kuranda Village($40 per adult, you can drive or go by bus) which winds through the Kuranda Range and we came back over the rainforest on the Skyrail Rainforest Cableway.
The original Kuranda Scenic Railway travels in part through rainforest, steep ravines and waterfalls. The picture below was taken after summer rains and when we went through there was only a small amount of water and not so picturesque. The railway winds its way on a journey taking about 1 hour 45 minutes from Cairns to Kuranda, and for much of the time you suck in the diesel fumes belched out by the loco. I arrived at Kuranda feeling a little queasy.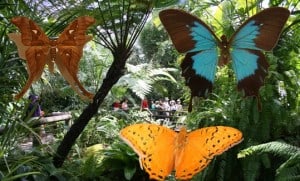 As we alighted at Kuranda we were met by spruikers from the local hotel waving their arms and trying to sell 'mango crushes' or beer. Apparently the town opens its doors when the tourists get off the train around 10am and then shut shop about 3pm when they all leave. Kuranda itself was a disapointment, a real tourist trap which basically sells a bunch of trinkety crap. Apart from the Arts Cooperative and a couple of other galleries the town markets are flooded with cheap Asian goods that you can buy anywhere.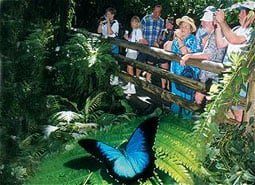 One place worth a visit if in Kuranda Village is the Australian Butterfly Sanctuary. It is the largest butterfly flight aviary in Australia, with 3,666 cubic metres of aviary and home to over1500 tropical butterflies that are hand reared on the premises. They are all local rainforest species, including the electric blue Ulysses and the majestic fluoro green Cairns Birdwing. The Birdwings apparently eat about 5 kilometres of the Aristilochia vine per year and the facility breeds approximately 30,000 caterpillars each year. At $16ca pop for entry it is not cheap but I can say it is worth it.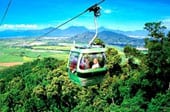 The trip back on the Skyrail was the highlight of the day. Spanning 7.5km, Skyrail Rainforest Cableway traverses the McAlister Range, through the Barron Gorge National Park, making an interesting journey between its Caravonica and Kuranda Terminals.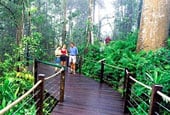 You glide a few metres above the rainforest canopy in a six-person gondola cabin, which provides uninterrupted views of the rainforest, Cairns, and even out to the Coral Sea. It has two stops where you can get off and walk amongst the rainforest. It was voted Australia's Best Major Tourist Attraction, and does provide a truly unique rainforest experience available nowhere else inthe world.
Kuranda Skyrail River crossing Skyrail's Caravonica Terminal is located about 15 minutes drive from Cairns city. Port Douglas is situated north, about 50 minutes fromSkyrail. Both of these locations are serviced by regular coach transfer pick-ups. We drove and found Skyrail's location easily accessible. Costis $40 one way ($100 family) and had we known we would have gone up and back to Kuranda Village on the Skyrail. It was a lovely area and well worth checking out.