Hawkesbury Houseboat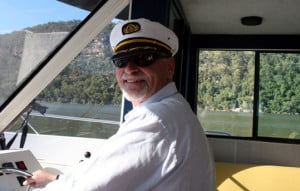 Four nights on a Hawkesbury Houseboat to celebrate my 50th birthday was one of the best decisions we ever made. Yes it is a departure again from our camping trips, but if you ever want a relaxing few days on the water, a Hawkesbury houseboat is one way to go.
We arrived at Brooklyn Marina one hour north of Sydney just after midday and checked out our 47 foot boat, then loaded the gear aboard. We had far too much 'stuff' but there was plenty of room and we found nooks and crannies to stow it all away.
If you have never driven a boat before (like me), don't worry it is pretty easy. We watched a short video (15 mins) on safety gear and basic boat handling techniques, and then we were 'shown the ropes' onboard. Once we felt comfortable a skipper took us out of the marina onto the Hawkesbury, then left us to our own devices.
With two 60hp Mercury outboards the Hawkesbury Houseboat chugged along very well. The main challenge was keeping an eye on where we were at any given time as it is pretty easy to 'get lost' so to speak. Not that we really could as the boat was fitted with GPS tracking and is monitored by people back at the marina. We did make a wrong turn at one stage and called the Hawkesbury Houseboat base. They immediately came back and gave us directions, which meant an embarassing 180 degree.
From the map below you can see the red line which indicates the areas we visted. Four nights, five days gave us the opportunity to see quite a bit of the river. Our preference was for the southern end as the water was much clearer compared to the top end.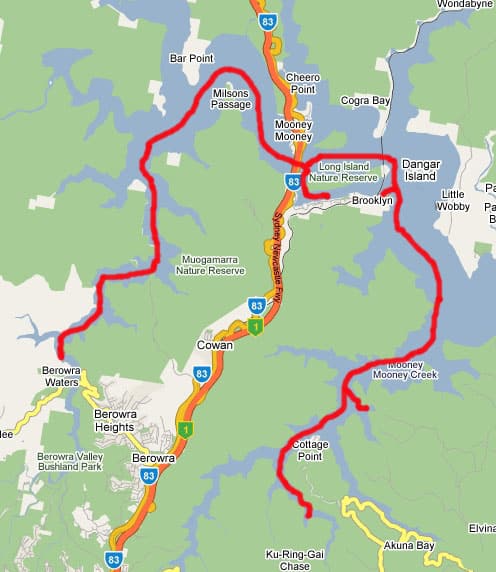 Named by Governor Phillip in June 1789, after Charles Jenkinson, 1st Earl of Liverpool, there is certainly a lot of waterway to explore. From the confluence of the Nepean and Grose Rivers to the sea, the Hawkesbury River has a total length of some 120 kilometres.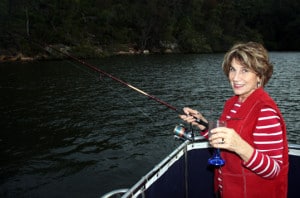 We had fishing lines hanging from the back of the boat every day and caught quite a few… small tiddlers but it was great fun. A friend onboard is a keen fisherman and he spent many hours changing tackle and bait. People do still catch good sized fish in the Hawkesbury but I think you need to know where and when, and with what to catch the biggies. Over the days we only managed to catch one pan-sized fish, which went down very well for breakfast.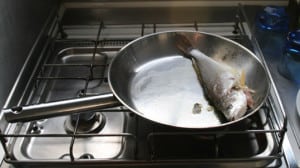 Fortunately we didn't have to rely on our fishing skills, and could call in on a the local fisherman's Co-Op. This wonderful little shopping complex is located within the Hawkesbury River Marina and we simply moored the houseboat on our Ripples mooring and took the dingy ashore. Such a wonderful experience to put-put into the shops with the dingy, tie up and do some shopping. For the evening ahead we purchased a kilo of Yamba king prawns and 4 dozen oysters. Within the complex, the small supermarket provided us with the opportunity to stock up on another couple bottles of champagne and we were done.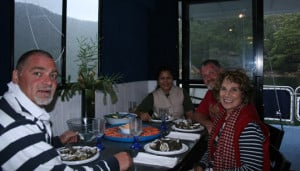 We were becoming experts at hooking the public moorings by this stage, and we cast off again, heading South in search of our night's stop-over. It started raining and this slowly settled in as we wound along the river for the next hour or so. In the teaming rain we found a great little alcove with a public mooring. What fun to be on the river in the rain, the girls prepared our banquet and we settled back to enjoy!
Each day we explored different parts of the river, and stayed in a new spot every night. Unlike camping you don't have to pack everything away, simply pull up anchor (or throw off the mooring rope) and away you go.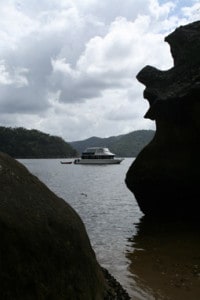 When we saw something interesting we pulled up, put out the anchor on our Hawkesbury Houseboat and rowed ashore to poke about.
The River runs through the Ku Ring Gai National Park and along the banks you can see the spectacular 200 million year old Hawkesbury Sandstone. There is over 1,100 km of foreshore fringing the river, and looking at the eroded formations and colour kept us occupied for hours.
One day it started to rain whilst we were on the move. As the rain was quite intense visibility was reduced, so I dropped the revs a little and we made our way slowly up river. Reaching a lovely little cove we moored whilst the rain kept bucketing down. Later we found out that there had been 80mm overnight and our Hawkesbury Houseboat wasn't completely waterproof! A leaking roof meant some wet patches inside, but we weren't about to let that spoil the trip. The rain cleared off next day and the hillsides around were dotted with cascading waterfalls. Absolutely beautiful.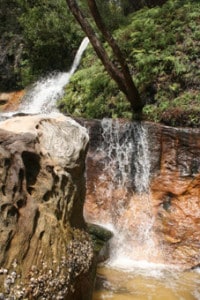 With nobody around and in one sheltered bay we went ashore showering starkers under the pulse of crystal clear waters.
On our last night we packed away the fishing lines, broke out more champagne (Scotch for me) and turned our eclectic mix of music up. As the sun set with a stunning array of clours, and with no one around we drank and danced on the back of the houseboat. A great night to remember, rounding out the Hawkesbury Houseboat experience… one that we won't forget.
If you are not one for being on the river there are still some wonderful places to stay along the Hawkesbury River where you can swim, fish, bushwalk – or just laze on a deck!