Cassegrain Wines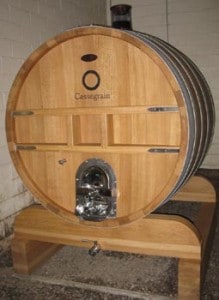 Cassegrain Wines is situated on the Pacific Highway just south of Port Macquarie on the New South Wales mid-north coast, and is a wonderful place to visit for a taste of tradition.
It is said that the winemaking heritage began in France in 1643. This heritage of French winemaking skills combined with Australian technology is practised today by John Cassegrain, using "savoir faire" (the know how), to produce a wide range of soft and elegant wines.
The cellar door is open seven days a week, from 9am to 5pm, with a complete range of wines for tasting, along with the new Wine Attic which offers a range of both Australian and International wines.
Restuarant
We didn't eat here, but the restaurant is big and beautiful, and overlooks the winery grounds and rose gardens. Things look pretty swish and the French-inspired cuisine showcases fresh regional produce by Head Chef, Lisa Ryan.
A selection of menus are available to suit your requirements ranging from a Quick Plate Selection to the A-la-carte Menu. A special degustation menu is also available on request for those who wish to enjoy a leisurely afternoon or evening of exceptional cuisine matched with Cassegrain wines.
I think if you were looking for a place for a special occasion, say like an anniversary, this would be the place to go.
The grounds of Cassegrain Wines is the ideal setting for all occasions, from a romantic wedding to a casual picnic. It features extensive grounds, a formal garden with picnic areas and boasting over 2000 stunning rose bushes, which line the entrance to the winery. The sweeping lawns of the Oval, set within the vineyards, forms a natural amphitheatre where a number of concerts are held each year.
Whilst the vineyards are not extensive, the wine making facilities are the biggest in the area, and many smaller labels have their wine made at this prestigious location.
The winemaking team is headed by John Cassegrain who is highly regarded in the wine industry and considered somewhat of a pioneer through his interest in establishing new regions, encouraging more sustainable farming practices and exploring new grape varieties. This was the first winery to grow and produce Chambourcin commercially in Australia.