4WD GPS
NAVMAN PiN 570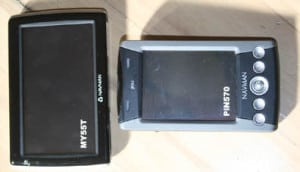 When I purchased my first 4WD GPS, the Navman PiN 570 in 2005, it was the absolute bees-knees. I was working for National Parks and living at Uluru at the time, and the Navman accompanied me on numerous trips throughout the Central Desert.
The PiN 570 had Windows Mobile 2003, a suite of management tools and software, including Microsoft Office programs designed for PDAs. Size was great at 127mm x 71mm x 24mm, and only weighed 176grams. The screen was a bit small, 3.5″ (89mm) although voice direction was loud and could be heard on the roughest of outback tracks.
You can navigate around the PiN 570 using either the provided stylus or by using one of the quick access buttons on the front. I preferred to use the stylus most of the time but the quick access buttons are there should you need them. It has no wireless support and does not support bluetooth either.
So why did I purchase another 4WD GPS ? The one fatal flaw with the 570 was the inability to update maps. Yes that's correct you couldn't update the maps! In 2007 Navman offered a trade in (at $180 mind you) on another model.
I left the 12volt power cord in a Melbourne hire car and even though I called within hours I never got it back. The power cable into the unit had one of those flat multi-pin blades that never felt as though it was securely attached. I purchased another cable but it wouldn't stay connected to the unit.
With maps out of date and no capability to update, plus the broken power connection, it was time for another 4WD GPS unit.
NAVMAN MY55T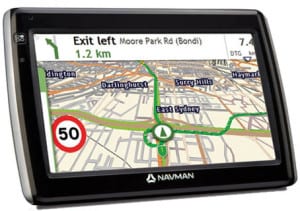 I didn't set out to buy another Navman, it just turned out that the MY55T was in my price range and seemed like a good unit. It cost me $306 and instantly liked the bigger 4.7" inch screen. No need for a stylus, just tap and slide to navigate around. The school zone warnings are really just a pain as you can see them well and truly before the alert. Volume of voice direction is a bit too low for my liking, particularly when travelling at highway speed.
Although the M55T does have Bluetooth connectivity and it was pretty easy to set up on my BlackBerry phone, it keeps dropping in and out. So don't buy this unit if you want rock solid hands free phone capability.
After a year the battery on the MY55T car GPS  lost charge pretty quickly, and then the whole unit died in 2012. There are a lot of different units in the marketplace these days so do your research before heading out into the sticks. More detail on MY55T here. In 2015, I don't own a 4WD GPS as such and now use my Android phone and import maps.